Popular skit maker, Debo Adedayo a.k.a Mr Macaroni, has called out Governor Babajide Sanwo-Olu of Lagos state and his government for allegedly trying to silence him.
The embittered comic actor, who has continued to air out his grievances about the day's government, stirred mixed reactions with his latest rant on Monday.
On Twitter he wrote: "High level of insecurity and hardship. Under @jidesanwoolu who swore to serve and protect the people. But na Mr Macaroni be their headache!! I have suffered so much under this administration but if you people think you will shut me up by trolling me, YOU LIE!!! Aluta Continua!!!"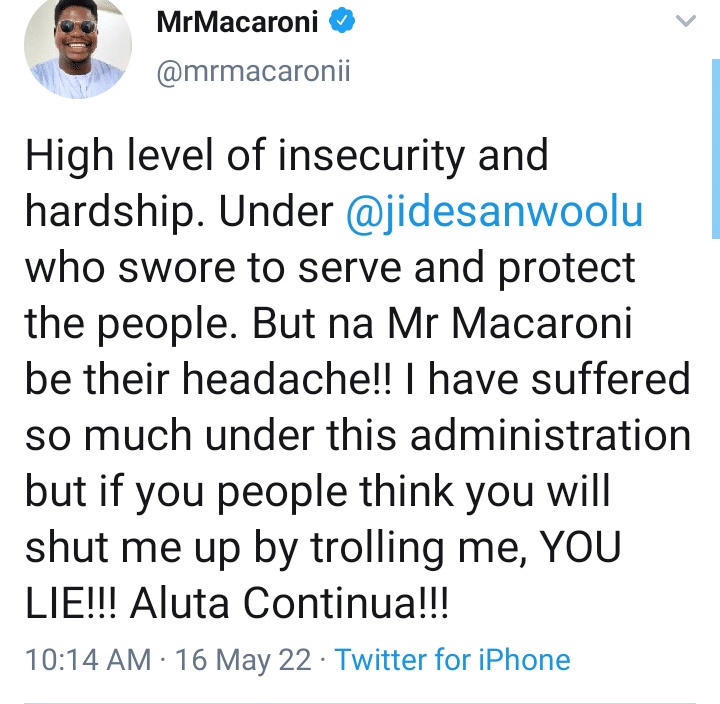 As reactions trail, netizens expressed shock at Macaroni's guts to call out the Lagos State governor.
@Nancy Hihi: "U are tagging @jidesanwoolu with ur full chest 😂😂😂😂 omo be calming down oooo."
@Mark Xade: "Macaroni don't go there.. You are exceeding boundaries."